Abajo Peak is located among the Abajo or Blue  Mountain range in Southeastern Utah. These mountains play a strong part in Native American history. The GPS coordinates for this repeater are:
N 37° 50′ 21″
W 109° 27′ 42″                                                                                11360 ft Elevation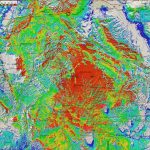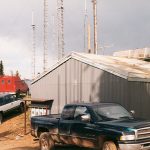 This repeater site is located in roughly the middle of San Juan County, Utah east of the city of Monticello, UT. This site consists of a VHF repeater (ERP 100 w) with a UHF link repeater which links back to Bruin Point. This UHF link is approximately 130 miles, our longest shot. This communication site is one of the tallest site available to the Sinbad Desert Amateur Radio Club and is Owned by Royce K7QEQ.
The antenna is located most of the way up a 120' tower.
This repeater covers Southeastern Utah, Southwest Colorado, Northwest New Mexico, and extreme Northeastern Arizona, including Monticello, UT, Blanding, UT, and much of Canyonlands National Park.
Repeater Access Information


Repeater Callsign: 	K7SDC
Output Frequency:  	146.610 MHz
Input Frequency:   	146.010 MHz
Offset:		-600 kHz
Status:		Open
CTCSS:		88.5 Hz



Pictures from Abajo Peak
| | | |
| --- | --- | --- |
| | | |
| Communication Building | Abajo Tower | Tower Workers |